General Ledger Setup
OVERVIEW:
The General Ledger Setup Screen allows you to add, edit, delete, or print your general ledger accounts.
The general ledger account numbers are used "behind the scenes" by DELPHI32 to conform to the Generally Applied Accounting Principles (GAAP). This means that DELPHI32 relies on general ledger account numbers to describe all of the transactions that take place within DELPHI.
Our philosophy with respect to the general ledger is twofold:
1) A practice management system must rely on a general ledger or it is not considered an accurate accounting system. Unfortunately, general ledgers are only understood by accountants, bookkeepers and DELPHI32. We feel that the most important job DELPHI32 has to do is to keep accurate records of the accounting end of your practice. Our customers will be the first to admit that they know little or nothing about general ledgers; that's why they hire accountants. You don't want to have to take an accounting course in order to run your practice and we at PC Consultants don't want to train our users in the complexities and various philosophies of general ledger usage.
2) Our customers need to understand their practice management system in simple and intuitive terms - such as recording a session or making a payment. Behind the scenes, DELPHI32 takes care of the accounting and general ledger technical aspects of practice management. All you need to know is that DELPHI32 is a solid accounts receivables package that takes handles the interface to the general ledger. This allows you to run your practice with ease and not have to get involved in general ledger activities.
That being said, we do not recommend that you modify the general ledger. DELPHI32 comes with a predefined list of expense accounts which you can use to enter your expenses into the Expense Register. However, you are free to add your own 'Expense Accounts' to the ledger.
WARNING: Unless you intend to add an expense account, DO NOT modify these accounts without first discussing your plans with us at DELPHI32. Doing so may cause the corruption and loss of your data. Even if your accountant advises you to set up the ledger differently, PLEASE speak with us before modifying any information other than expense accounts.
HOW TO GET THERE:
1) At the Main screen.
2) Select the Setup menu.
3) Scroll down to 'General Ledger'.
4) The 'General Ledger Setup Screen' similar to the one shown below will be displayed.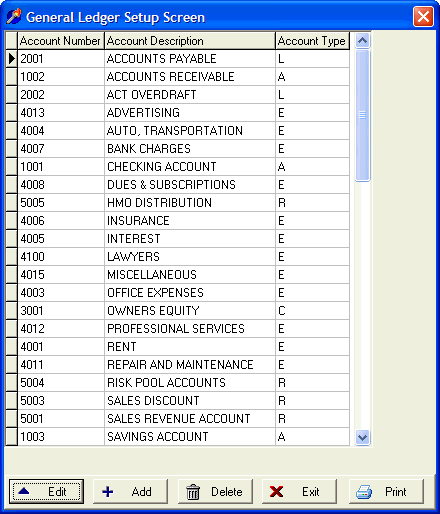 INSTRUCTIONS:
If a suitable expense account is not already defined in this section you can add your own. You also may wish to print a list of the current accounts. Before adding an expense account, it is important to determine that the account number you use is not already in use by the existing expense accounts. In DELPHI32 expense accounts are numbered in the 4000 to 4099 range. You will notice, by examining the existing list of accounts in the above picture, that you can safely start adding new expense accounts beginning with the number 4100. Additional accounts could be numbered 4110, 4120, etc. Just be sure to give the new account a new number not already in use in the 4000 range.
Warning: Do not delete or edit any existing general ledger accounts without first checking with us at PC Consultants. To add a new expense account simply click the ADD button at the bottom of the screen. A screen similar to the one shown below will be displayed.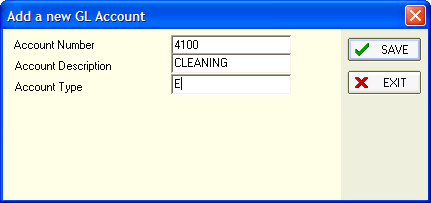 Account Number - Enter a number in the 4100-4999 expense number range that is not already in use.
Account Description - Enter the description of the new expense account.
Account Type - Enter an 'E' here which stands for expense account.
Warning: As stated above, do not modify any existing general ledger accounts without first speaking with us at PC Consultants.